Curriculum Intent
At Ponsbourne, our art and design curriculum gives pupils the skills and knowledge necessary for them to express their ideas in a visual or tactile form. Through art, we aim to provide social and cultural experiences for all children. Children will be introduced to a range of famous and diverse artists, so they can appreciate great works of art and as inspiration for their own work. Our curriculum provides children with opportunities to develop their skills using a range of media and materials. Children learn the skills of drawing, painting, printing, collage, textiles, 3D work and digital art and are given the opportunity to explore and evaluate different creative ideas.
In Art, children are encouraged to be reflective and evaluate their work, thinking about how they can make changes and keep progressing. Children are encouraged to experiment and then reflect on which ideas and techniques are most effective.
Art and Design in the Early Years
In art and design in the Early Years, we want children to have daily opportunities to explore a wide range of collage, painting and drawing activities, using appropriate tools and materials. They explore colour, texture, shape and form in two and three dimensions. We encourage children to be creative and experiment to produce work that they can explain and share with others.
Curriculum Implementation
At Ponsbourne, our art and design teaching is based on the expectations of the National Curriculum. Each half term, children complete art projects, exploring a range of diverse artists, following our two-year rolling programme of pathways from AccessArt.
Basic skills are introduced and then built upon, including drawing, printmaking, painting and making. Skills are revisited and the use of ongoing sketchbook work underpins this process. Sketchbooks are used to enable pupils to try out different ideas and store visual information for future use.
Visits (such as The Big Draw) enrich the learning. We encourage children to consider how great works of art affect them, their personal preferences and what they can learn from great artists to improve their own learning. Children learn to evaluate their own work, and develop and refine their techniques. We encourage cross-curricular practising of key skills learnt, for example, illustrating writing in English or creating reflective pictures in maths.
Colour Code to Areas of Focus
Each pathway is bordered by a colour. These colours correspond to the area of focus of that pathway.
Red - Drawing and Sketchbooks
Yellow - Print, Colour, Collage
Blue - Working in Three Dimensions
Green - Paint, Surface, Texture
Pink - Collaboration and Community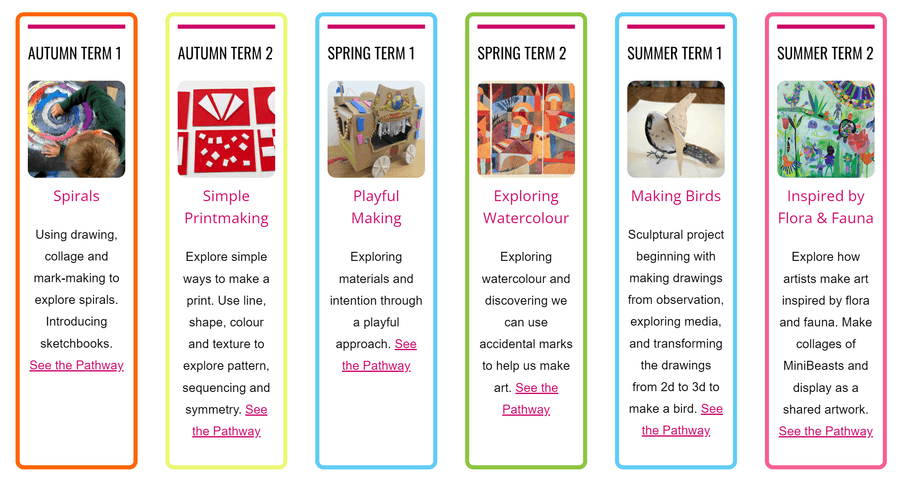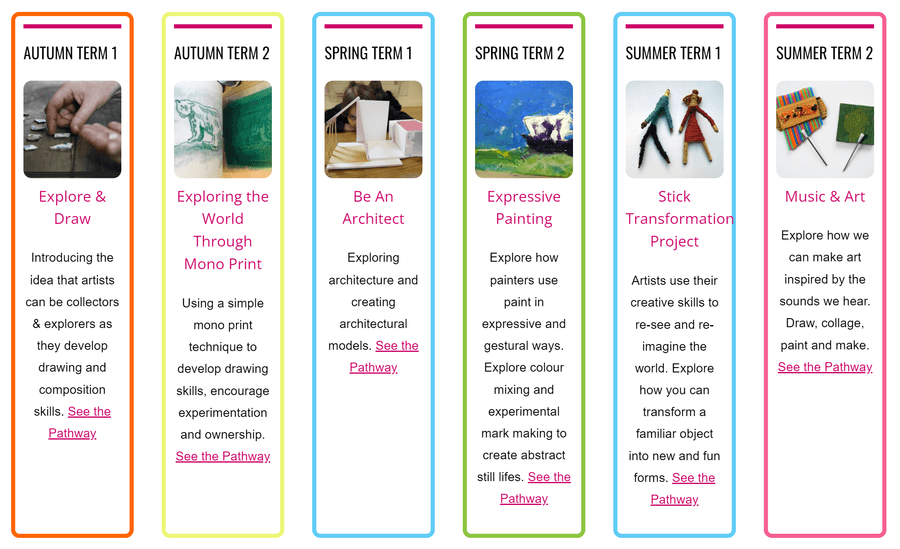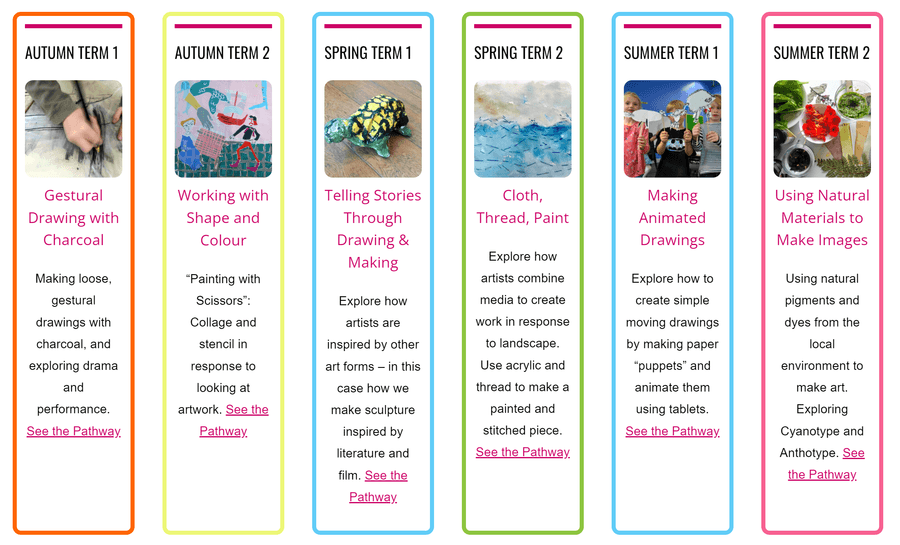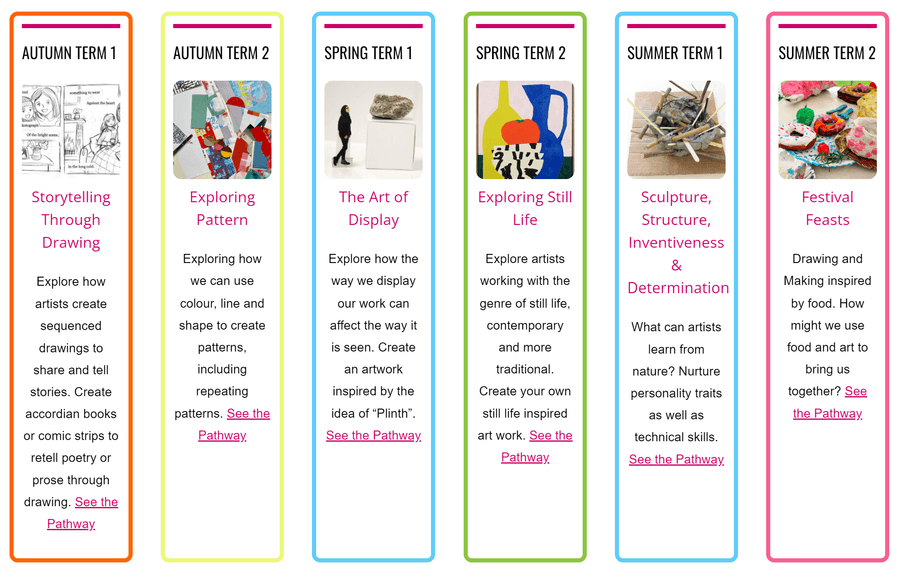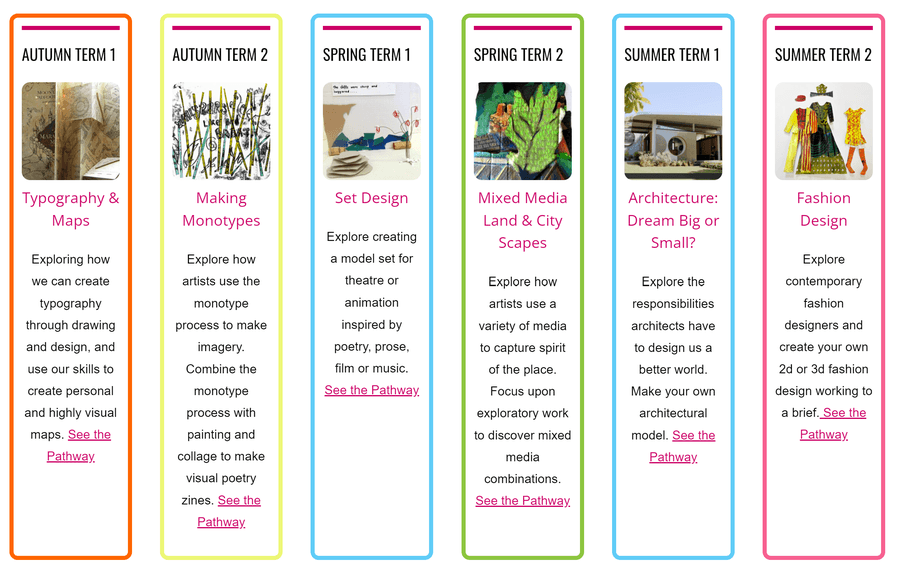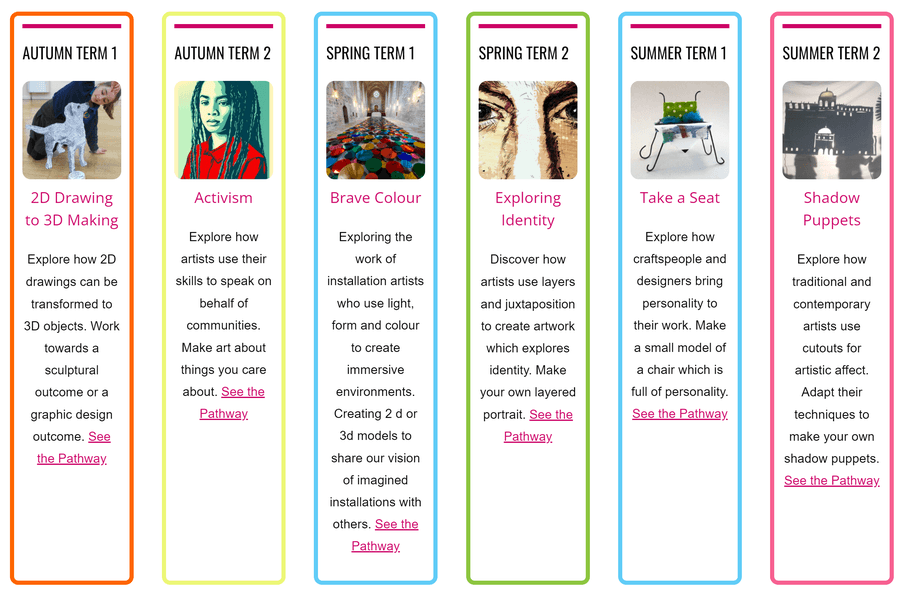 Curriculum Impact
In art and design we have identified key assessment milestones for the pupils and assess them against these regularly. We consult the children and use their feedback to refine teaching and learning. Senior leaders and Governors monitor learning, progress and impact in the subject.
Our children enjoy art and design. They enjoy being creative and skills are developed and improved throughout their time with us.